Evening's Performances
Townsend/Arr. Phillips: The Rock from Quadrophenia
Haydn Symphony No. 103 "Drumroll" 
Rachmaninov: Piano Concerto No. 2
Donald Crandall, piano
Concert 1 "Rach & Roll"
(and children's concerts)
October 6, 2016 at 7:30 PM
Wine & Cheese Reception 6:30 pm
Cailloux Theater – Kerrville, Texas
To learn more about this concert, see the Conductor Letter and Program Notes below.
---
Biography – Dr. Donald E. Crandall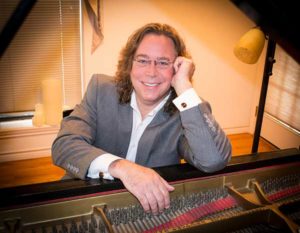 Donald E. Crandall began studying piano at age four in Norwich, N.Y. After receiving his Bachelor of Music degree from Ithaca College, he attended the New England Conservatory of Music in Boston, M.A. where he received his Master of Music degree. In 1997, Donald Crandall received his Doctor of Musical Arts degree from The University of Texas at Austin.
Donald's instructional experience spans over 25 years to include time at South Shore Conservatory of Music in Hingham, M.A., Powers Music School in Belmont, M.A., University of Texas at Austin, and (currently) at Schreiner University in Kerrville, T.X. where he also serves as the director of the music department.
University of Texas at Austin, and (currently) at Schreiner University in Kerrville, T.X. where he also serves as the director of the music department. At Schreiner, Dr. Crandall teaches Music Theory, Studio Piano, Group Piano, Piano Proficiency, and Sight-Singing and Ear Training. In the year 2000, Dr. Crandall was honored as a recipient of Schreiner University's Margaret Hosler Award for Excellence in Teaching. In 2010, following his 13th year at Schreiner, Dr. Crandall was promoted to Professor of Music. In 2011, he was named the Nancy and Cecil Atkission Professor for the next three years.
Dr. Crandall is a frequent performer with the Symphony of the Hills orchestra and has served as a featured soloist performing such works as Gershwin's Rhapsody in Blue, Beethoven's 5th Piano Concerto "The Emperor," Rachmaninoff's Rhapsody on a Theme by Paganini, and Addinsell's Warsaw Concerto. He stays engaged in various community activities while performing entertainment music with Harry and the Hightones (swing music), Men in Black (country and classic rock-n-roll), The Mike Kasberg Quartet (jazz), and George Eychner's Jazz Quartet.
Conductor's Letter
Dear Symphony of the Hills Friends,
The theme for our opening concert of this season is "Rach & Roll." In choosing the music for this program I hope to help bridge a perceived gap in the music world—the notion that so called "classical music" is stuffy and out of touch with modern times. The fact is, the best Rock & Roll bands from the 1950's until the present set their music with symphonic orchestral ensembles as often as they could. Notice that when major rock bands "make it" in the business, they usually turn to a symphony orchestra for a project or two. Think about how many rock stars have recorded and performed with orchestra: Buddy Holly in "It Doesn't Matter Anymore;" the Beatles' many works with strings/orchestra; Mick Jagger singing "Angie" with the London Symphony Orchestra; Metallica hooking up with the San Francisco Symphony for their "S&M" album; and even the idea of a "rock opera" made famous by The Who with their albums "Tommy" and "Quadrophenia." Our opening concert this year will begin with an orchestration of a work entitled "The Rock" from the album "Quadrophenia" written by the great guitarist Pete Townshend.
Our second composer, Sergei Rachmaninov, enjoyed a high level of professional success and was recognized in his lifetime much as a modern day "rock star" would be. The beginning of his career was very humble, especially considering he suffered from a 4-year bout of "writer's block" as mentioned in Jim Adams' excellent concert notes for this program. Like many people (famous and not) seem to do today, Rachmaninov sought out a therapist and conquered his demons, writing this exultant 2nd concerto.
There is even a successful Broadway musical written about Rachmaninov's journey through depression entitled "Preludes" by Dave Malloy. It is amazing that stars in all walks of life have so many challenges stemming from their talent and success. In our presentation of this concerto, Donald Crandall, the highly talented professor and chair of music at Schreiner University, is our featured piano soloist. He, like many outstanding artists, is known to excel in other genres including Jazz, Rock & Roll, and the Blues.
Known as the "Father of the Symphony," Franz Joseph Haydn wrote his Symphony No. 103 "Drumroll" for a performance in London. He, like today's rock stars, travelled all over Europe, including time in England. The work earned the sub title "Drumroll" because of the mysterious and inviting timpani roll at the beginning of the symphony.
I hope to see you at our opening concert this season. You'll see a wonderful symphony orchestra, a "rock star" at the piano, and will enjoy a beautiful and exciting concert! And, thanks so much to our concert sponsors!
With sincere thanks for your attendance and support,
Gene Dowdy
Conductor & Artistic Director
---
Program Notes
Symphony No. 103 "Drumroll"
(Franz) Joseph Haydn (1732 – 1809)
Joseph Haydn, most widely recognized for his development of chamber music, was born in Austria to parents of limited means. His tremendous musical facility was noted at a very early age, and his parents responded by sending him at age 6 to live with a nearby relative for serious musical training. He soon displayed his talent on the harpsichord and violin.
Haydn's work was central to the development of what came to be called the sonata form. His creative work, however, differed in some ways from that of Mozart and Beethoven, who were younger contemporaries likewise pursuing this form of composition. Haydn was particularly fond of the so-called "monothematic exposition", in which the music that establishes the dominant key is similar or identical to the opening theme.
This Symphony is the penultimate creation of twelve so-called "London" symphonies by Haydn, composed for performance in England during Haydn's two journeys there in the 1790's. The piece is nicknamed "Drumroll" from the employment of tympani at the start. The "Drumroll" premiered in 1795 at the Kings Theater in London and was enthusiastically received. Indeed, Haydn was beloved by the British musical public and the feeling was mutual.
It has been said that Haydn closely followed passages from Croatian folk music in creating "Drumroll." In any case, since its premiere the "Drumroll" Symphony has been a favorite among Haydn's symphonies, and is frequently performed and recorded today. In four movements, the piece starts with a somber theme, reminiscent of the Latin chant for the dead Dies Irae, followed by a sprightly sonata form. In the second movement, he employed the "double variation" of alternating themes in C Major and C Minor, a structure he followed more or less for 20 years. By many of the world's best composers of the period, Haydn's "Drumroll" is considered one of the great tours de force by one of the masters of classical music.
Piano Concerto No. 2
Sergei Rachmaninov (1873 – 1943)
Dr. Don Crandall, pianist
Sergei Rachmaninoff (or Rachmaninov, which is closer to the original Russian Рахма́нинов,) was born in northwestern Russia to a musical family; he started playing piano proficiently at age four. He graduated from the Moscow Conservatory at age 19, by which time he had composed several piano and orchestral pieces. Unfortunately, he was an emotionally fragile young man and went into a state of deep depression and writer's block for almost four years as a result of a brutal critique of his early work, Symphony No. 1. Following an experimental but successful hypnotherapy with physician and amateur musician Nikolai Dahl, he returned to his music and composed his Second Piano Concerto ("Rach 2") at age 28, which he dedicated to Dahl and which was enthusiastically acclaimed.
The Russian Revolutions of 1917 were devastating to Rachmaninov. He lost his estate, his way of life, and his livelihood. He, his wife and two children left Russia for Helsinki, Finland in December 1917 on an open sled, having a little money, a few sketches of his compositions and two orchestral scores. They eventually settled in Copenhagen, where Rachmaninov reinvented himself as a concert pianist, performing concerts across Scandinavia.
Towards the end of 1918, news of Rachmaninov's career as a performer had reached the United States and he received several offers to work in New York City, which he accepted. He became primarily a touring conductor, which took up so much of his time that he composed only six pieces between 1918 and 1939.
In 1920, Rachmaninov signed a recording contract with the Victor Talking Machine Company which earned him a significant income. Indeed, he became one of the two highest paid musicians in America (along with Paderewski.) He moved to Beverly Hills in 1942 and became a US citizen in 1943. He died of advanced melanoma one month after receiving his citizenship papers.
Rachmaninov ranked among the finest pianists of his time, gifted with extremely large hands which he used to great advantage in compositions such as Rach 2 and Rach 3. He was heard to say, however, that Vladimir Horowitz, a great pianist whom he had befriended shortly after arriving in New York, could play his Piano Concertos better than anyone else, including himself.
Rach 2 is widely characterized as the most enrapturing, romantic compositions ever written, also generally considered by pianists to be very difficult to play. This concerto, written over a six month period toward the end of 1900, established Rachmaninov for all time as an outstanding composer of the classical repertoire. The piece is written in three movement concerto form, with the orchestra first carrying a Russian-character melody while the piano makes an accompaniment of oscillating arpeggios. The opening movement begins with the piano building tension with a series of bell-like chords, eventually climaxing in the introduction of the main theme.
Rach 2 is memorable to an extreme degree, in some measure due to its extensive use as background music in television and motion pictures. For instance, one might be reminded of Frank Sinatra's "Full Moon and Empty Arms," composed by Buddy Kaye. Other theatrical endeavors of the 40s and 50s used excerpts from Rach 2 and it is very frequently chosen for background music by world class figure skaters.
This evening's piano artistry will be performed by Dr.Don Crandall, who is more than up to the challenge of executing this demanding and delightful piece of music.
"The Rock" from Quadrophenia
Pete Townshend (1945 -)
Quadrophenia is the second rock opera by the English rock band The Who, released as a studio album in 1973. The story follows a young Mod (a group within the UK subculture) named Jimmy and his search for self-worth and importance, set in London and Brighton in 1965. It is the only Who album to be entirely composed by group leader Pete Townshend. Brimming over with music reflecting life and packed with depth and personality, Quadrophenia is 90 minutes of the Who at its very best.
Quadrophenia was released to a positive reception in both the UK and the US, but the resulting tour was marred with problems. It was revived in 1996 with a larger ensemble, and another tour occurred in 2012. The album made a positive impact on the Mod revival movement of the late 1970s, and the resulting film adaptation, released in 1979, was successful.
The penultimate instrumental of the opera, "The Rock," opens with sounds of waves and an outboard motor. The leitmotifs reappear in various forms as Jimmy takes the boat he's commandeered out to a rock in the middle of the ocean, where he sits, watches the waves, and thinks. The instrumentation mimics the sound and motion of the waves in different strengths as well as mirroring Jimmy's surge of emotions. To the listener, things don't seem like they're going to end well for Jimmy. We'll see.
Concert Notes by Jim Adams