Concert 4 "Old, New, Borrowed, Blue"
A Cool Musical Blend
February 22, 2018     7:30 PM
Wine & Cheese Reception 6:30 pm
Cailloux Theater – Kerrville, Texas
PERFORMANCES INCLUDE
Hill Country Youth Orchestra, Guest Artists
Rhapsody in Blue – George Gershwin
Naoko Takao, guest piano soloist
Pictures at an Exhibition – Modest Mussorgsky
Dear Symphony of the Hills' Friends,
Our fourth concert of this season will feature outstanding music chosen with inspiration from the bridal rhyme for good luck: something old, something new, something borrowed, something blue. In fact, classical orchestral music is a perfect setting for choosing great music that is timeless, music that is played by our newest classical musicians (the wonderful Hill Country Youth Orchestra), music that is borrowed from the piano repertoire and elevated to the orchestra, and music that is inspired by "the blues."
The evening's performance will open with our outstanding Hill Country Youth Orchestra. They have been invited to perform our "overture" for this concert. HCYO is providing the "new" part of our theme. You will be amazed at the quality of these young people and their talented conductors.
For our "blue" contribution to the performance, we feature George Gershwin's famous Rhapsody in Blue, set for piano solo and orchestra. The Symphony of the Hills welcomes to the Cailloux stage Dr. Naoko Takao, director of keyboard performance at the Frost School of Music at the University of Miami (FL) and a former Gold Medal winner of the San Antonio International Piano Competition.
In many ways a borrowed work, Modeste Mussorgsky's epic piano solo "Pictures at an Exhibition" represents a musical journey to an art show with fanciful settings of each painting. In another example of "borrowing," the orchestra will play the great French composer Maurice Ravel's orchestral transcription of this piano composition. Ravel's added colorful orchestration helps bring this magnificent musical work to life. For the final movement of "Pictures" (The Great Gate of Kiev), we welcome back the HCYO musicians to sit side-by-side with the SOH in a grand finale that is certain to raise the roof.
We hope you enjoy this variety of tremendous music!
With sincere thanks for your support and attendance,
Gene Dowdy
Conductor & Artistic Director
Rhapsody in Blue
George Gershwin (1898–1937)
The story of George Gershwin typifies the familiar Horatio Alger Myth: George was of Russian Jewish and Ukrainian Jewish descent. Upon arrival in New York, Gershwin's father, Moishe Gershowitz, changed his first name to Morris. Moishe (Morris) settled at first with a maternal uncle in Brooklyn, a tailor named Greenstein, where he worked as a foreman in a women's shoe factory. He married Roza Berskina, also a Russian Jew, in 1895; they were 23 and 19 years of age, respectively. At some time between 1893 and 1898, Morris Gershowitz changed his surname to Gershwine. The second child born to the couple in their second-floor dwelling at 242 Snediker Avenue in Brooklyn was George, on September 26, 1898. His birth certificate bears the name Jacob Gershwine, with the surname being commonly pronounced 'Gersh-vin' by the Yiddish Russian community. The name George came from his late grandfather. He went by no other name but George. Years later, George changed the spelling of his surname to Gershwin after he became a professional musician. Other members of his family followed suit.
George lived a typical childhood existence for children in New York tenements–running around with his boyhood friends, roller skating and misbehaving in the streets. Remarkably, he cared nothing for music until the age of ten, when he became intrigued at his friend Maxie Rosenzweig's violin recital. The sound and the way his friend played captured him. His parents had bought a piano for his older brother Ira, but to his parents' surprise, and Ira's relief, it was George who spent more time playing it.
With a degree of frustration, George tried various piano teachers over at least two years, before finally being introduced to Charles Hambitzer. Until his death in 1918, Hambitzer remained Gershwin's musical mentor, taught him conventional piano technique, introduced him to music of the European classical tradition, and encouraged him to attend symphony concerts. At home young Gershwin would play at the piano the music that he had heard in concerts, completely from recall and without sheet music. Gershwin proceeded to develop his formal classical training through studies under the classical composer Rubin Goldmark and avant-garde composer-theorist Henry Cowell.
The music of George Gershwin is as much a part of American culture as the flag, blue jeans and a hamburger. He is one of America's treasures; his Rhapsody in Blue combines the elements of classical music with the influence of American jazz. The piece, commissioned by Paul Whiteman in 1924, established Gershwin's reputation as a serious composer and has since become one of the most popular of all American concert works. A vivid description of his composing this piece is fascinating. In Gershwin's own words: "It was on the train, with its steely rhythms, its rattle-ty bang, that is so often so stimulating to a composer–I frequently hear music in the very heart of the noise–and there I suddenly heard, and even saw on paper–the complete construction of the Rhapsody, from beginning to end. No new themes came to me, but I worked on the thematic material already in my mind and tried to conceive the composition as a whole. I heard it as a sort of musical kaleidoscope of America, of our vast melting pot, of our unduplicated national pep, of our metropolitan madness. By the time I reached Boston I had a definite plot of the piece, as distinguished from its actual substance."
---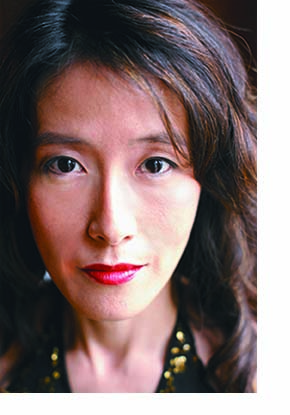 Naoko Takao, piano soloist

A prizewinner of numerous competitions including the gold medal at the San Antonio International Piano Competition, Takao enjoys a multi-faceted career as a soloist, chamber musician, pedagogue, and a researcher. She has appeared at prestigious venues such as the Kennedy Center Terrace Theater, Weill Recital Hall (at Carnegie Hall,) Coolidge Auditorium at the Library of Congress, Lensic Performing Arts Center (Santa Fe), Caramoor, Le Domaine Forget (Canada), Vianden Music Festival (Luxembourg), and Taipei National Concert Hall. While known for her affinity to works by Beethoven, Chopin, and Rachmaninov, Takao is equally sought after as an enthusiastic advocate of newly composed music, and has premiered many works to high acclaim at organizations such as the Society of Composers and International Alliance for Women in Music. Her 2015 release of the complete 12 piano sonatas by Vincent Persichetti is followed by another album of his chamber music. The latter includes the world-premiere of Concertato for Piano and String Quartet, Op. 12, based on a manuscript discovered during her recent research at the New York Public Library. She can be heard on Capstone, Centaur, Dorian, Elan, and Friends of Smithsonian labels.
In addition, Takao's passion for collaborative work has made her a seasoned veteran in chamber music scenes, playing for all instruments imaginable in recital settings. She has also frequently served as an orchestral pianist for larger ensembles such as the Washington D. C. based Post Classical Ensemble (directed by Joseph Horowitz), the Kennedy Center Opera House Orchestra, and the Smithsonian Chamber Ensemble/Players (directed by Kenneth Slowik)—a long time affiliation with recording engagements including a GRAMMY-nominated album. As an adjudicator, she has been invited as a juror for competitions such as San Antonio International Piano Competition, WPTA International Piano Competition (Novi Sad, Serbia), and Discover Chamber Music National Competition (Chicago). Takao is also busy in academic circles, appearing at various colleges and universities as an invited artist, adjudicator, masterclass clinician, or a conference presenter.
Combining her unique performance background with research, she directs the graduate programs in Keyboard Performance and Pedagogy at the Frost School of Music at the University of Miami. Her research interest of late is on cognitive neuroscience and its application to piano performance and the learning process, which resulted in a winning grant proposal.
Originally from Japan, Takao came to the United States alone while only a teenager, following the recommendation by the late Alicia de Larrocha whom she was introduced to through Mie Ishii. After studying at the Preparatory Program of the San Francisco Conservatory of Music under Nathan Schwartz, she studied with Raymond Hanson, Anne Koscielny and Santiago Rodriguez at the Hartt School of Music and University of Maryland, College Park. In chamber music, she coached extensively with the members of the Guarneri Quartet, in particular, with the late David Soyer.
Pictures at an Exhibition
Modest Mussorgsky (1839–1880)
Mussorgsky was a Russian composer, one of the group known as "The Five." He was an innovator of Russian music in the romantic period. As was the case with other members of The Five, he strove to achieve a uniquely Russian musical identity, often in deliberate defiance of the established conventions of Western music. Many of his works were inspired by Russian history, folklore, and other nationalist themes. One in particular is Pictures at an Exhibition.
Pictures at an Exhibition–A Remembrance of Viktor Hartmann, is a suite of ten pieces (plus a recurring, varied Promenade) which Mussorgsky composed for the piano in 22 days, following his tour of Hartmann's exhibition of paintings at the Imperial Academy of Arts in Saint Petersburg. Viktor Hartmann was an artist of some note in the period 1868–1873 whose work obviously made a strong impression on Mussorgsky. Each of the ten pieces of the Suite represent one of the paintings by Hartmann. This suite is Mussorgsky's most famous piano composition and is often a showpiece for virtuoso pianists. It has become further known through orchestrations and arrangements produced by other musicians and composers, with Maurice Ravel's arrangement being the most recorded and performed.
Concert Notes by Jim Adams