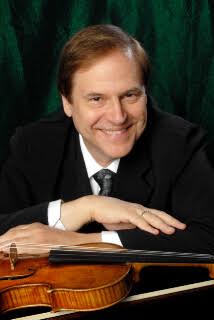 Dr. Daniel Kobialka, Concert Master
Dr. Daniel Kobialka is an internationally recognized violinist and composer who became Concertmaster of the Symphony of the Hills Orchestra in 2013. His goal is to target audiences of every need, so that sound can envelope and surround the ears of people globally and create music of many different genres.
In addition to performing with The Boston Symphony, Atlanta Symphony, and the San Francisco Symphony, where he was Principal Second Violinist from September 1975 to September 2008, Dr. Kobialka has also premiered both solo works and concertos for violin, including Ben Weber's Violin Concerto No. 1, dedicated to him, with the Atlanta Symphony Orchestra under the late Robert Shaw. He served as Concertmaster for the premier of Leonard Bernstein's Mass, which opened in the Kennedy Center in Washington, D.C. With the San Francisco Symphony Orchestra, he gave both the American premiere of Toru Takemitsu's "Far Calls, Coming Far," and the world premiere of Charles Wuorinen's "Rhapsody."
With a desire to showcase violin music in a way it had not been before, Dr. Kobialka has developed a style growing out of diverse genres and showcasing music often overlooked. His accomplishments also include his recording of the Mozart Violin and Piano Sonatas and the Ottorino Respighi Violin Sonata on the Sonic Arts Label. He has specialized in performing the music of Mozart and was the Founding Soloist and Concertmaster of the Mid-Summer Mozart Festival Orchestra. He was invited to perform at the International Holistic Health Association's second "Global Holistic Health Summit" in Bangalore, India, in 2002. He was personally invited by Seiji Ozawa to perform in the International Nagano Winter Orchestra during the Winter Olympics in Nagano, Japan, in 1998.
Dr. Daniel Kobialka is currently on the faculties of the University of the Incarnate Word in San Antonio and Schreiner University in Kerrville.