Symphony of the Hills Children's Outreach

The Symphony of the Hills is proud to have completed our sixth year of the Children's Outreach program in area schools, under the direction of Deidra Harmer, one of our SoH Board Members. Approximately 1,700 area students benefited from our outreach in the fall of 2016. The schools that received in-school presentations included Center Point, Ingram, Hunt, four KISD elementary schools, Covenant Academy, Harper Elementary, Fredericksburg Middle School, and St. Mary's Elementary School in Fredericksburg. A TEKS certified lesson plan was distributed to teachers 30 days prior to the Children's Concerts, in which music teachers were given the tools to teach students about the pieces to be performed, their composers, the era and country in which the music was written as well as the emotion and storytelling behind those pieces.
Our presenters, Darian Thomas, Patty Fagan Miller, Jonathan Raveneau and Josh Younke, all members of our Symphony of the Hills orchestra and accomplished musicians and teachers, engaged students with an engaging, interactive, vibrant in-school presentation. This program not only reinforced the music content of the Children's Concerts but also gave the children a familiarity with the instruments they would see in the orchestra, experience with the power of musical storytelling, and encouragement to pursue their own talents through hard work and higher education. Preparing the students for the Children's Concerts translates to enhanced enjoyment of classical symphony music and fosters an interest in learning to play a musical instrument in the school's band and/or orchestra programs.
---

Symphony of the Hills Children's Concerts
Two free, one hour symphony concerts were presented in the beautiful Cailloux Theater for 1,600 area 3rd and 4th grade students on October 6, 2016. Before each of the concerts, members of the orchestra engaged the students in discussions as well as up-close and personal demonstrations of most of the symphonic instruments.
Photography by Jeff Sirianni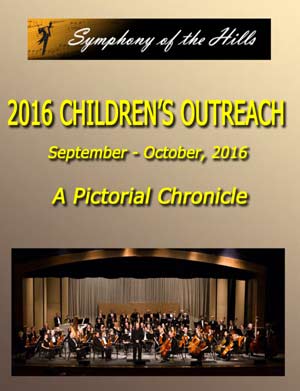 Children's Outreach Program
In the weeks preceding their attending the free children's concerts at the Cailloux Theater, about 20 assembly programs were scheduled at participating schools by orchestra members to help prepare the children to fully enjoy their experience.  All participating schools are provided with curriculum materials that meet Texas Essential Knowledge and Skills (TEKS) and aid music teachers in preparing their students to enjoy the performances at the Cailloux Theater.
---
Children's Outreach Sponsors