Symphony of the Hills Children's Outreach

The Symphony of the Hills is proud to have completed our fourth year of children's outreach programming in area schools. Approximately 1,400 area students benefitted from our outreach programming. The schools that received outreach programming, included four KISD elementary schools, Notre Dame School in Kerrville, Covenant Academy in Kerrville, Harper Elementary, Fredericksburg Middle School, St. Mary's Elementary School in Fredericksburg, and Hunt Elementary. A TEKS certified lesson plan was distributed to teachers 30 days prior to the Children's Concerts, in which music teachers were given the tools to teach students about the pieces to be performed, their composers, the era and country in which the music was written as well as the emotion and storytelling behind those pieces.
Our presenters, Jonathan Raveneau and Josh Younke, both accomplished musicians and teachers, and members of our Symphony of the Hills orchestra, engaged students with an infective, interactive, vibrant in-school presentation. This program not only reinforced the music content of the Children's Concerts but also gave the children a familiarity with the instruments they would see in the orchestra, experience with the power of musical storytelling, and encouragement to pursue their own talents through hard work and higher education. Preparing the students for the Children's Concerts translates to enhanced enjoyment of classical symphony music and fosters an interest in learning to play a musical instrument in the school's band and/or orchestra programs.
---

Symphony of the Hills Children's Concerts
Two free, one hour symphony concerts were presented in the beautiful Cailloux Theater for 1,600 area 3rd and 4th grade students on March 3, 2015. Before each of the concerts members of the orchestra, and their instruments, engaged the students in discussions as well as up-close and personal demonstrations as they were being seated. It is an honor to serve our area youth and to instill a love of classical symphony music at the elementary level. Thank you to our patrons and sponsors for helping to make this worthwhile programming available to our community!
Photography by Jeff Sirianni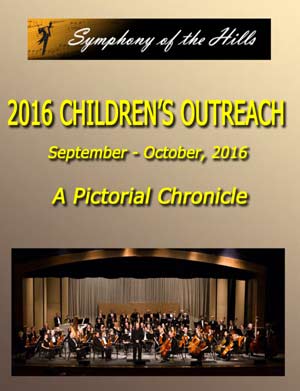 Children's Outreach Program
1600 Hill Country third and fourth graders attended our Children's Concerts hosted in October, 2015, and we look forward to hosting the 2016 classes again this October. In the weeks preceding their visit to the Cailloux Theater, over 20 assembly programs are scheduled at participating schools by orchestra members to help prepare the children to fully enjoy their experience.  All participating schools are provided with curriculum materials that meet Texas Essential Knowledge and Skills  2014-2015 Symphony of the Hills, Children's Concert Sponsors (TEKS) and aid music teachers in preparing their students to enjoy the performances at the Cailloux Theater.
---