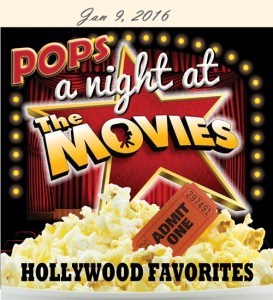 Concert January 9, 2016 at 7:30 PM
Wine & Cheese Reception 6:30 pm
Cailloux Theater – Kerrville, Texas
Evening's Performances
Music from Frozen Christophe Beck
Evergreen from A Star is Born Streisand/Williams
I Dreamed a Dream & Bring Him Home
Boubil, et. al.
Selections from The Wizard of Oz Arlen/Sayre
Selections from Annie Strouse/Louden
Sound of Music Highlights Arr. Frederick Muller
Music from Harry Potter & others Arr. John Williams
To learn more about this concert, see the Conductor Letter and Program Notes below.
---
Conductor Letter
Dear Friends of the Symphony of the Hills,
The Symphony of the Hills annual "pops" concert is a Hill Country tradition. Coming on the tails of Christmas and the New Year holidays, the orchestra is always excited to feature popular music genres that celebrate this festive time of year. This year's Pops Concert theme is a "Night at the Movies – Hollywood Favorites." A perfect landscape for this theme, we draw on Hollywood's outstanding film scores in presenting this program.
You will hear classics from earlier masterworks, such as Gone with the Wind and The Wizard of Oz, to recent award winning scores, such as the music from Frozen and the 2012 release of the epic movie version of Les Miserables. One of the highlights will be soprano Linda Poetschke singing "Evergreen" from A Star is Born. Concertmaster Daniel Kobialka will bring out the exotically beautiful Asian sounds from the movie score to Hero.
If you enjoy this Symphony of the Hills concert, I hope you will join our concert sponsor and others throughout the season whose passionate support keeps symphonic orchestral music vibrant in our community.
Thank you for your attendance and I hope to see you at our next concert on February 25, "ShakespeareFest!–A Musical Tribute to the Bard."
With sincere best wishes for a wonderful 2016!
Gene Dowdy
Conductor & Artistic Director
---
Program Notes
Music from Frozen
Christophe Beck
The original score for the movie Frozen comprises 10 original songs written and composed by Kristen Anderson-Lopez and Robert Lopez with 22 score pieces written by Christophe Beck. Among these favorites from the score, Let It Go was instantly a popular hit, winning the Academy Award for Best Original Song, a Grammy for Best Song for Visual Media and the Critic's Choice Award. Let It Go has become an international favorite.
As of last year, the soundtrack for Frozen peaked as a Billboard top soundtrack for 43 weeks, the best performance for a soundtrack since the movie Titanic in 1998.
Evergreen from A Star is Born
Streisand/Williams
This love theme from the popular movie A Star Is Born was composed and performed by Barbra Streisand with lyrics by Paul Williams; it is Barbra's signature song. As composers, Streisand and Williams earned an Academy Award for Best Original Song, Streisand being the first woman so honored; Streisand also earned a Grammy Award for Song of the Year.
The song's opening couplet, "Love, soft as an easy chair, love fresh as the morning air," almost did not appear that way. Williams wrote the "morning air" line first, but told Streisand to "flip those two first lines, because it sings better."
I Dreamed a Dream & Bring Him Home
Boubil, et. al.
Memorable ballads from the popular musical Les Miserables, the music for which these songs were written, originated with the French production by Claude-Michel Schonberg. The tune I Dreamed a Dream is a lament, sung by the anguished Fantine, who has just been fired from her job at the factory and thrown onto the streets. English lyrics for these two pieces were by Herbert Kretzmer, based on the original French libretto by Alain Boublil. Typically played in the key of E flat major, I Dreamed a Dream has become a jazz standard.
Selections from The Wizard of Oz
Arlen/Sayre
The Wizard of Oz has remained a popular musical production and motion picture of the same name, based on an adaptation for the Royal Shakespeare Company by John Kane, with music by Harold Arlen and lyrics by E.Y. Harburg. Many such adaptations and music have stemmed from the original novel The Wonderful Wizard of Oz by L. Frank Baum.
Successful musicals based on the Baum novel were created in 1902 (for Broadway) and 1945 (for St. Louis Municipal Opera), the latter of which, using songs from the popular 1939 film, is still frequently revived. The selections performed this evening were arranged by C. Sayre.
Selections from Annie
Strouse/Louden
The music of Charles Strouse has touched the life of almost every American in the last half century. It can be stated that the work of no other living composer of America's music is so integrated into the popular culture as that of Charles Strouse.
His compositions have attracted top recording artists such as Barbra Streisand, Frank Sinatra, Tony Bennett, Bobby Darin, Harry Connick, Jr., Jay-Z, Louis Armstrong, Nina Simone, and Duke Ellington and his Orchestra.
Strouse, a native New Yorker, has written scores for over 30 stage musicals, including 14 for Broadway, has been inducted into the Songwriters Hall of Fame and is a three-time Tony Award winner. With hundreds of productions licensed annually, his musicals Annie and Bye Bye Birdie are among the most popular of all time.
Sound of Music Highlights
Arr. Frederick Muller
The original idea for a musical based the von Trapp family, who lived near Salzburg in the 1920s, came from a West German movie released in 1956. That movie, in turn, was loosely based on a memoir written by Maria von Trapp. It is said that stage director Vincent J. Donehue came up with the original idea and advocated his friend Mary Martin for the starring role. The resulting musical production, The Sound of Music, written by Richard Rodgers with original lyrics by Oscar Hammerstein, was an instant success and is one of the most popular musicals ever produced. Many songs from the musical have become standards, such as "Edelweiss," "My Favorite Things," "Climb Ev'ry Mountain," "Do-Re-Mi," and the title song "The Sound of Music."
The original Broadway production, starring Mary Martin and Theodore Bikel, opened on November 16, 1959. The production had nine nominations for a Tony in that year and captured five awards.
Music from Harry Potter & others
Arr. John Williams
John Williams, recognized for his countless contributions to American music of all genres over the past 3 decades, wrote the scores for the first three Harry Potter films (2001-2004.) Williams has written scores for innumerable popular films and has won five Academy Awards, three Golden Globe Awards, five British Academy Film Awards, and 17 Grammies. Williams is truly an American treasure of international fame.
Concert Notes by Jim Adams